Visited 2410 times , 1 Visit today
A major update (Dec 24, 2020):
FlockMod was born over a decade ago.
It once ran under Flash which was the standard for media content on websites.
Flash has now become unsecure and obsolete so Adobe decided to end its life this December 31st.
But don't worry! We have been working hard these last years to bring you an updated version.
Coded in the new web standards, it can now run on most modern devices including phones and tablets.
A desktop version (currently for Microsoft Windows only) is also available.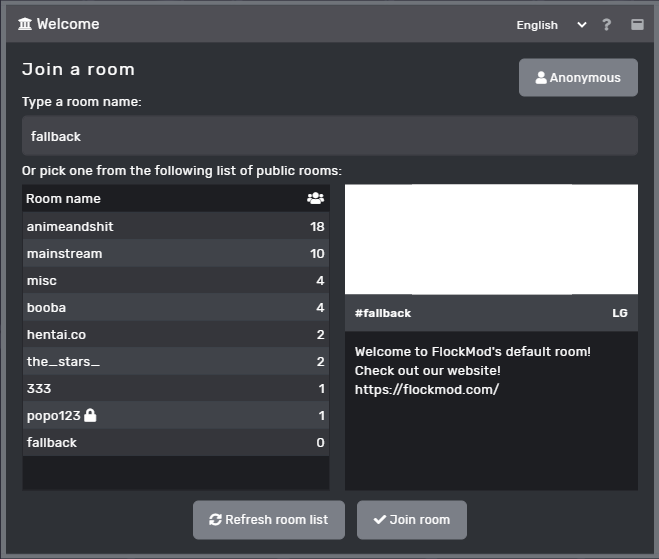 Latest minor updates:
Oct 20, 2022:
Added personal mentions (use @ in the chat).
Added a few more emojis.
Oct 18, 2022:
Improved syncing process.
Added change primary/secondary color hotkeys.
Oct 16, 2022:
Added opacity to the fill tool.
Improved how some elements of the UI fit on smaller screens.
Improved color selector.
Fixed export configuration option not working.
Other small fixes and improvements.
Jul 10, 2022:
Improved touch screen support.
Jul 06, 2022:
Added 3 more fonts to the text tool.
Fixed custom brush ignoring blend modes.
Added icons to all context menus.
Jan 17, 2022:
Improved integration with the gallery (right click on a registered user to see their uploaded images)
Emoji selector now remembers your most recently used emojis.
Fixed interface being dragged when using a pen.
Dec 6, 2021:
Emojis are now 50% bigger.
Added more custom brushes to the gallery.
Dec 4, 2021:
Added position preview while dragging the board.
You can now skip sync with the current user if the transfer is too slow.
Sep 1, 2021:
Client will now sync with the user with lowest latency.
Aug 30, 2021:
Added support for Imgur thumbnails.
Aug 29, 2021:
Fixed other user's strokes not looking as smooth as they see them on their own screen.
Messenger now supports image previews (must be enabled in the config first).
Aug 26, 2021:
Replaced old Inbox with FlockMod Messenger.
Fixed layer merge sometimes clearing the layer.
Added layer filtering to the animation cloning/clearing.
Aug 18, 2021:
Added animation mode.
Added menu as a right click option.
Bans now support "?" (any single character).
Fixed text tool flickering.
Aug 3, 2021:
Added spanish translation.
Added more custom brushes to the brush gallery.
Jul 11, 2021:
Added color picker tool to the Brush Designer.
Added color selector to the Brush Designer.
Added cursor to the Brush Designer.
Jun 30, 2021:
Added image rotation.
Users using known proxies are now publicly identified (little icon next to their country flag)
Room owners can now decide if they want to automatically mute, silence or block known proxies.
Mar 12, 2021:
Improved how the stroke preview looks (can be changed back to normal in the Configuration to improve performance).
Muted users now disappear from the board.
Mar 11, 2021:
Undo's previous saved states now don't reset if you re-join the same room.
Mar 10, 2021:
Undo and save now remember last selection.
Fixed undo's rectangle being slightly missplaced.
Updated old bans to the new IP format.
Selection tool can now export directly to Custom Brush.
Mar 6, 2021:
Added Random Rotation option to the custom brush.
Added more custom brushes to the brush gallery.
Mar 5, 2021:
Improved how custom brush tint works.
Tint in custom brush is now toggable.
Mar 4, 2021:
User list's context menu will now show username, rank and identificator of the user you clicked on.
Added auto-ignore when someone spams the chat.
Mar 3, 2021:
Chat will now show youtube thumbnails if the preview option is enabled.
Room owners are now shown in the Staff list.
Mar 2, 2021:
Added option to show image previews on chat (disabled by default, it will only work with our gallery for now)
Feb 28, 2021:
Tooltips will now show secondary hotkeys too.
Fixed chat sometimes not letting you type.
Fixed IGNORE only ignoring private messages.
Rejoining the same room won't clear the chat.
Added unknown country flag.
Jan 2, 2021:
Added option to disable tooltips.